As a chemical engineer you may understand the difficulty or trickiness of selecting the fluid packages. Here I am explaining my views related to the fluid packages and some basic methods to select the fluids packages.
What is a fluid package?
The Fluid package is nothing but a set of governing equations which will help us to find out the different variable properties of fluid at defined states. For example you would like to simulate a process in any simulation software, process is nothing but a change of states to reach our required condition. Let's say you would like to raise the temperature of the water by using a shell and tube heat exchanger. Initially you have to define your feed conditions.
Feed conditions of water : Temp – 32 Degree Centigrade.
                                       Pressure – 1 atm.
                                       Composition – Pure water (Mole fraction 1).
                                       Flow rate – as per the user (Extensive property ).
Now as per the degrees of freedom of aspen hysys, if you enter the 4 variable values in material streams all remaining values can be calculated automatically. How they are getting calculated. It's because of the fluid package.  There are different types of fluid packages available. The question is how to select the suitable one ?
There are two types of selection procedures available as shown in the above figure. One is Based on type of component and another one is based on process.
Here you can see how to select the fluid packages based on two different processes.
Based on component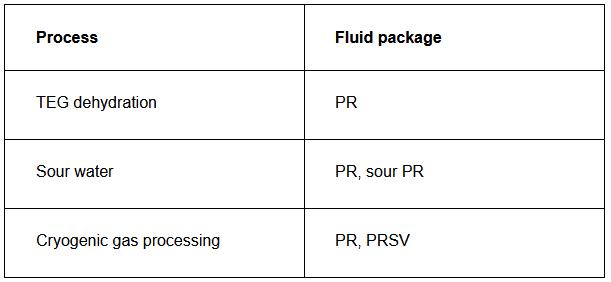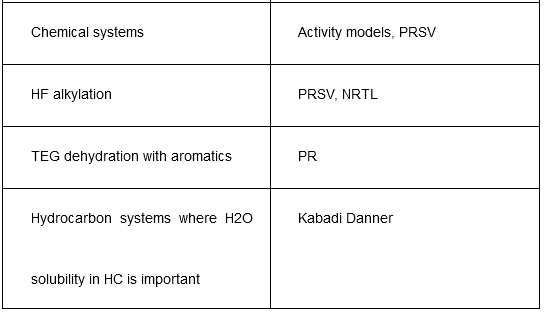 I Hope you understand how to select the fluid packages by using two different methods. But which one is the best one and which is more comfortable? 
If you select the fluid package as per component list there may be a lot of problems. Because the process industry may not have a single component in the process of getting our requirements we have to go through a lot of situations. 
Suppose if water is there in your process plant and you select ASME steam as a fluid package it is not going to accept any other hydrocarbon. It's only accepted for the water. But the process industry is going to have a lot of components. We required hot steam which is coming from the boiler, we required refrigerant loops, we required gas compressions systems, we have a lot of requirements in the plant to run the process smoothly. So going for the selection of fluid package as per the component type is not a good option. But there are some exceptions like if you are trying to design a single equipment like a heat exchanger for water. Then its better to go for a selection as per the component type.
If you have a chance to choose between component type and process type always choose based on process type.
Aaharya Aspen Hysys Training Program.
We are providing the world best training on aspen hysys in india. Aspen hysys playing an important role in chemical engineers career, by keeping this in mind aaharya designed its syllabus which can be helpful for both beginners and as well as to experts. And the syllabus designed by the major process engineers around india.
Syllabus Click here to See
Know more about Training Program Click here
Especially in 2020, things are not going good. So we bring the learning to the online platform. We are teaching most emerging technologies in chemical engineering. Here you can check some of those important concepts. Every month we have an opening for the training program. Book demo class now.